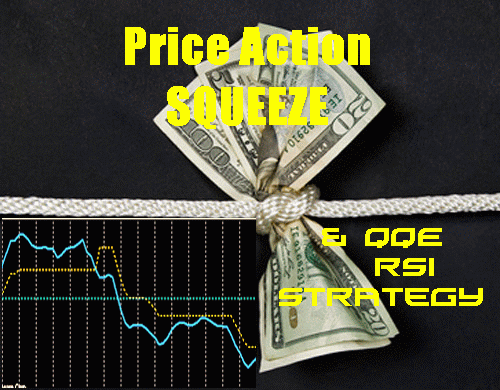 Description:
This is a simple strategy combining price action squeeze patterns with the QQE RSI Indicator. In this first video we are only looking at a naked chart with some support and resistance lines to spot the price action squeeze pattern.
In this video I am adding in one of my favorite indicators the QQE RSI indicator.
The QQE RSI indicator uses quantitative qualitative estimation combined with the RSI to filter noise out of the markets and attempt to illustrate a trend on the market. The QQE RSI indicator uses a fast and slow ATR ( Average Trading Range ) to create a trailing volatility on top of a standard RSI that has been modified with a wilder function so as to apply the average volatility curve again on that standard RSI. That is just a bit of info on what is going on under the hood of this indicator but not essential to know by any stretch of the imagination.

All we are doing is reading QQE RSI like any other RSI and combining this indicators 50 crossings with the Price Action Squeeze pattern to generate trading signals on an hourly or longer chart. These signals are probably best suited for spot Forex trading or Bull Spread trades on the Nadex platform.
RULES ABOUT QQE Formations:

The formation on the QQE RSI indicator is important to observe and I am looking for RSI to be above the slow trend ( the dotted line on the bottom ) to go long ( Take calls for the Forex market to go up ). I would like to see a formation where the RSI is below the slow trend ( dotted line on top ) to go short ( Take puts for the Forex market to go down).

I have a 25 SMA ( Simple Moving Average ) on this chart in the 2nd video and I am using it along with the 50 line on the QQE RSI to help me find the center of the universe where more conventional traders will separate BULLISH and BEARISH sentiment. So in my mind and in these examples you can see the price action squeeze pattern playing out around the center leaving room for the speculative breakout trade that we hope will follow to actually run more in our favor because this is just a modified RSI and we will have some distance to cover until we hit oversold and overbought areas.

Price action Squeeze patterns are just easier for me to spot here because price action will hangout around that 25 SMA and the super smoothed formulas of the QQE RSI indicator will show a long almost perfectly straight line with the 50 level in between for what is in my mind the perfect price action setup on an hourly or longer chart time frame.
Download the QQE RSI indicator by clicking the link below and try this simple strategy today.